We Are the Dead
Cande Aguilar, Paul Behnke, Karl Bielik, Valerie Brennan, Brian Edmonds, Mali Morris, Sabine Tress, Pier Wright
March 5-April 9, 2016
Opening reception Saturday, March 5, 6:30-8:30 pm
Artists will be in attendance

Kirk Hopper Fine Art is pleased to announce our upcoming group exhibition entitled We Are the Dead. The exhibition includes works by Cande Aguilar (USA), Paul Behnke (USA), Karl Bielik (UK), Valerie Brennan (CY), Brian Edmonds (USA), Mali Morris (UK), Sabine Tress (DE), and Pier Wright (USA).

We Are the Dead magnifies the ideas of variety and disparity in order to present a multifaceted, committed and dynamic group of painters all of whom eschew the bland, somnambulistic, and ever present approach of Zombie Formalism. In its place are idiosyncratic, powerful, poetic, and individualized statements by painters deeply immersed in their craft and committed to the idea that to communicate their own internal landscape is one of the bedrock reasons to paint.

These painters have long and varied exhibition histories, including curatorial projects, and many have previously exhibited together all over the world. These connections only enhance a running and involved conversation of criticism and support that binds their work and the painters themselves.

Selected artist bios

Paul Behnke was born in Memphis, Tennessee and received a Bachelor of Fine Arts degree in Painting from the Memphis College of Art. Behnke's work has been exhibited widely in the United States and internationally. Behnke has been awarded residencies at the Sam and Adele Golden Foundation and the Vermont Studio Center. His work has been reviewed in the New Criterion, Hyperallergic and the New Republic. Behnke lives and maintains a full time studio practice in Manhattan.

Karl Bielik was born in Bradford, England. He currently lives and works in London. He is the Founder and Director of Terrace Gallery and Studios. Bielik also writes and performs in Lark, who are signed to Standard Lamp Records.

Mali Morris was born in North Wales and studied Fine Art at the University of Newcastle upon Tyne (BA) and the University of Reading (MFA). She has lived and worked in London since the early 1970s. Her work is in private and public collections worldwide, including the Arts Council England, Government Art Collection, Royal Academy of Arts London, Royal Collection London, and Whitworth Art Gallery, Manchester.

Valerie Brennan moved to Cyprus in 1999 to complete a post graduate degree at the Lemba College of Art. She has participated in many exhibitions nationally and internationally. She has had a solo exhibition with the Giampietro Gallery in New Haven, Conn. Her previous exhibitions include the Palacio de Legislación, México City, Scope N.Y., Parallel Art Space, N.Y. She recently participated in group exhibitions at the Torrance Museum of Art, California and at the Cape Cod Museum of Art in Boston. Valerie is also the author of Studio Critical, a popular blog that explores contemporary painting practices. In 2014 she founded Studio Apothiki, a working studio and project space based in Paphos, Cyprus.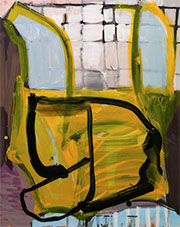 Karl Bielik, Sparkle, 2011, oil on board, 20" x 16"