Supernova
New work by Jorge Alegría
May 13-June 24, 2017
Opening reception Saturday, May 13 from 6:00-8:00 pm
Artist will be in attendance

Kirk Hopper Fine Art is pleased to welcome our first solo exhibition for artist Jorge Alegría, titled Supernova.
| | |
| --- | --- |
| | Old Antep, 2017, graphite on paper, 11" x 14" |
Supernova is a further exploration into the visual imagination of Jorge Alegría's series Heaven: The War of the Angels. Heaven is a series of works based on a personal fictional narrative of the same name, originating from the Bible, spanning the cosmos and centuries into the future. The new drawings represent scenes of environments, creatures, and civilizations found in events from that narrative.

Alegría's seductively detailed drawings tap into his stream of consciousness and pull from his boyhood interests of dinosaurs, Bible stories, bird watching, and ant farms to create a dark and dystopian world. The War of the Angels begins during the story of Noah, with people and animals being gathered and relocated throughout the cosmos, while a distant angel seeks revenge by inflicting catastrophe. Alegría's drawings reveal the fragility of our own reality and how disconnected we have become from grace and redemption. His drawings reflect a life of complex moods for complex times.

Jorge Alegría is a native of Corpus Christi, Texas. He studied at Del Mar College and Texas A&M Corpus Christi. Alegría has been exhibiting his work regionally for nearly two decades. Recent group exhibitions include the contemporary drawing biennial Texas Draws III at Southwest School of Art in 2014 and Slipstream, curated by Susie Kalil at Kirk Hopper Fine Art in 2016. In 2004, he and a friend started the independent art space Residence, hosting critiques, curating exhibits, and posting art reviews. The space was revived in 2013, renamed the Living Room, which featured one-night shows of selected artists. Alegría is represented in several collections, including the Art Museum of South Texas.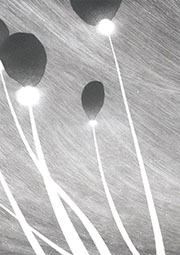 Aerophages, 2016, graphite on paper, 13.5" x 16.5"