Step Up
Roberta Harris
March 31-April 28, 2012
Opening reception Saturday, March 31, 6:30-8:30 pm
Main Gallery
Artist will be in attendance

Roberta Harris's exhibition finds inspiration in geometric forms and checkerboard designs used by artisans for millennia. In many cultures, the checkerboard represented a stair step ascending to a higher place. Harris's series uses checkerboards and geometric patterns to allude to the action of stepping "UP" and as an affirmation of her love for life. She also cites Ancient ziggurats, spiritual temples that "STEP UP" to heaven, as a reference. Harris's work eminates powerful metaphors related to spirituality, recovery, construction, simplicity, change, and the state of the world.

Harris was born in Passaic, New Jersey and grew up in Houston, Texas. She has lived in New York, Washington, D.C and Santa Fe, New Mexico. She was chosen for the Independent Study Program, Whitney Museum of American Art in New York. Harris studied at Parson's School of Design and Hunter College in New York. Her paintings and sculptures have been exhibited nationally and internationally and are included in numerous private and corporate collections including MTV Corporation, New York; Chase Manhattan Bank, New York; Frito-Lay, Dallas; Dynegy, Houston; Compaq (Hewlett-Packard), Houston and Texas Heart Institute, Houston. Harris has instructed at Glassell School of Art, Museum of Fine Arts, Houston; and has been a visiting lecturer at the Kimbell Art Museum, in Ft. Worth, Brookhaven College in Dallas; the University of Houston, and the Menil Collection in Houston.

In 2009, Harris was honored with a retrospective at the Women's Museum (an affiliate of the Smithsonian Institution) in Dallas, titled ROBERTA HARRIS: "UP" 1985-2009. Harris lives and works in Houston, Texas.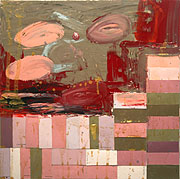 "Cream Rose"
16" x 16"
2011