Bert Long's Red Book
July 10-August 14, 2010
Artist reception July 10, 7:00-9:00 pm
View exhibit gallery
Related Event

"Bert," a production of Just Right Films, will have its Dallas premiere at The Mac on August 6 at 7:00 pm. The event is sponsored by The Mac and Kirk Hopper Fine Art. The
McKinney Avenue Contemporary
is located at 3120 McKinney Avenue. Call 214-953-1212 for more information.
One of the most important and legendary Texas artists, Bert Long, unveils to Dallas "Bert Long's Red Book," an exhibit of new works that have come to fruition in response to Swiss psychiatrist, C.G. Jung's recently published private journal, The Red Book. The showed debuted at the Houston Jung Center with great reception in May 2010. J. Pittman McGehee, Jungian analyst and Jung Center board member, notes that Bert Long's revelations are "whimsical, deep and significant." Clint Willour, curator for the Galveston Arts Center, suggests that this is "arguably the strongest body of work he has made since those he did during his residency as a fellow at the American Academy in Rome."
"Creativity Imprisoned" is one of the 17 new works included in the exhibit. It has a bright pink background with a photo of the artist "imprisoned" behind a fence, a seemingly "crashed" object contained in the outline of a cube, highlighted in bright colors, and a heavily decorated plaster frame bound by dingy steel bars. Long alludes to the fact that he does not know what it is like to have his creativity hindered by referencing text from the psychiatrist's Red Book, "This is the very thing I would love to know but don't."
When asked to psycho-analyze Long and this current body of work, Kirk Hopper, KHFA owner and long-time collector, says that he "isn't sure what all lies deep in the recesses of Bert's psyche, but it all seems to be the result of at least some serious swagger and a whole lot of cornbread."
Long is a native Texan who studied adult education at UCLA, graduating in 1972. He was awarded the Rome Prize Fellowship in 1990 and was also recognized as Texas Artist of the Year. Most recently he completed a 30-foot painting commissioned by the LOOSCAN Library of Houston, as well as signing a contract for a book by renowned writer Thomas McEvilly. Long is also the subject of a recent documentary by Just Right Films which debuts this summer.
Long's art can be found in some of the most important public, private and corporate collections:
Metropolitan Museum of Art, NYC
Dallas Museum of Art
Museum of Fine Art, Houston
Instituto de Bachillerato, "Mario Roso de Luna," Logrosan, Spain
Office of the Mayor, Berzocana, Spain
Dallas Morning News
Gallerie Dario Boccara, Paris, France
SBC Collection of 20th Century Art, San Antonio
Also showing in Gallery B
"Remove Your Veil," works on paper by Carlos Donjuan




"It"
2010
Acrylic on canvas, plaster frame, gold paint
34" x 39" x 3"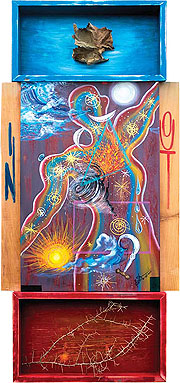 "Soul"
2010
Acrylic on canvas with frame of white pine, sycamore leaf, Mexican thorn branch
87" x 40" x 5"