Quid Pro Quo
Alfredo Scaroina
In conjuction with Deborah Colton Gallery
June 1-July 6, 2013
Opening reception Saturday, June 1, 6:30-8:30 pm
Artist will be in attendance
View exhibit gallery
Alfredo Scaroina's work explores matters of abstraction, as well as emotional and psychological expression, as it changes from one culture to another.
Scaroina examines how everyday events, information, personal experience, news media, politics, etc. influence not only the individual and the subconscious, but also collective consciousness and cultural perceptions.
According to Scaroina, his works create valid associations with time, matter and multidimensional subjects, stating, "these concepts of matter as art form translate into symbolism, urbanism and modernism, which are consummated through a direct affair of the creative process." He utilizes non-conventional and conventional materials, allowing construction and deconstruction, creating paradoxes within his works.
Alfredo Scaroina was born and raised in Santo Domingo, Dominican Republic. He has had numerous solo and group exhibitions, including a solo show at the Museum of Modern Art in Santo and a group exhibition at the Museum of Modern Art in Santo Domingo, Dominican Republic.
Scaroina's solo exhibition at the Deborah Colton Gallery in 2012 was very successful, receiving national and international press. At the 2013 Dallas Art Fair, Alfredo's work exhibited at the Deborah Colton Gallery booth was sold out by opening night. His art is found in many prestigious collections throughout the United States, Europe and Latin America.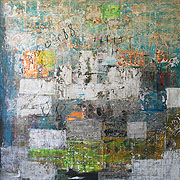 Crazy People Go to Heaven
56" x 56"
Acrylic, black gesso, synthetic polymer, wax crayon, junk mail, recycle newsprint on canvas
Courtesy of Deborah Colton Gallery