Trouble in Paradise
Karin Broker
June 1-July 6, 2013
Opening reception Saturday, June 1, 6:30-8:30 pm
Artist will be in attendance
View exhibit gallery
Karin Broker's exhibition Trouble in Paradise features highly ornate sculptural works, as well as 2D works with nailed metal on wood. They visually deal with bad boyfriends, quirky family problems, as well as death, intertwining beauty, femininity and optimism with tragedy, severity and aging. Broker states, "In the end I just like to make things . . . these 'things' are my personal and quiet conversations with melancholia, my mom and dad, the fifteen hundred mile separation from my family, women, men, religion and the physical changes to our bodies over time."
Broker, professor of printmaking and drawing at Rice University, was the 1994 Texas Artist of the Year and was awarded two grants from the National Endowment for the Art. Originally from Pennsylvania, she moved to Houston shortly after earning her MFA from the University of Wisconsin. She has been living and working in Houston for the past 30 years.
Broker's artwork is included in various public collections nationwide including: Brooklyn Museum of Art, McNay Art Museum, Smithsonian Institution, New York Public Library, Museum of Fine Arts, Houston and Museum of Fine Arts, Boston.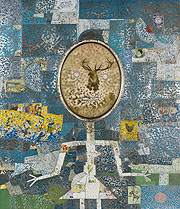 Self Portrait II
4' x 5'
Metal nailed in gold, deep frame
Photo: Paul Hester