Monumental Works
Bert Long Jr., Bill Haveron and Roger Winter
October 31-November 26, 2014
Opening reception Friday, October 31, 12:00-6:00 pm

Kirk Hopper Fine Art is proud to announce our upcoming exhibition Monumental Works by Bert Long Jr., Bill Haveron, and Roger Winter. The show will feature a selection of monumental sized works by these three significant artists, such as Bert Long's Riding the Tiger (2000), an exemplary work by Long shown in his 2006 exhibition at the Museum of Fine Arts Houston, and Bill Haveron's Three Tears Fell (1997-2001) based on the artist's reflections on the JonBenét Ramsey case.
| | |
| --- | --- |
| | Bert Long Jr., Commitment, 1988, mixed media, 108" x 89" x 8" |
A self-taught artist, Bert Long Jr. (1940-2013) was raised in Houston's historic fifth ward and received his formal education from UCLA in 1972. Long's paintings and sculptures incorporate a high level of skill and sophisticated knowledge of art history, along with complex philosophical issues. Long describes the philosophy behind his work as "a quest to help people diagnose their inner self," believing his art to be "the vehicle to help facilitate the process."

Over Long's 33-year career as a painter, sculptor and photographer, he earned several awards including the NEA Grant in 1987 and the prestigious Prix de Rome fellowship in 1990, His work can be seen in over 100 private and public collections worldwide, including the Metropolitan Museum of Art, Dallas Museum of Art, Houston Museum of Fine Art, Blanton Museum of Art, the El Paso Museum of Art and the Instituto de Bachillerato in Spain.

Born in Bryan, Texas, where he still resides, Bill Haveron has been an artist since childhood. He is a true Texas original, a unique artist dedicated to narrative stories and a masterful illusionist representing the struggles of good and evil and the sacred versus the mundane. For Haveron, drawing is the soil out of which his thinking grows. His drawings are fantasy escapes for him to work though his own peccadilloes and vicissitudes.

Haveron's art is influenced by his experiences as a youth at his mother's honky-tonk bar, his Catholic upbringing, literary characters and pop culture icons. The strokes in his drawings tower, bevel, loop and dart and the sureness of his hand is almost infallible. Haveron's work is in the permanent collections of the Modern Art Museum of Fort Worth, San Francisco Museum of Modern Art, Austin Museum of Art, the El Paso Museum of Art and the Abilene Art Museum.

Roger Winter's career spans over five decades. His work transforms tremendously due to his determination to continually experiment and his openness to change. Through his mastering of color and line, the artist creates paintings with a premeditated complicity that encourage the viewer to explore the canvas in a rhythmic motion. Winter's works are a testimony of his keen awareness of his surroundings. He tends to combine direct observation with memories and dreams to create engaging and expressive images.

Roger Winter holds a BFA from the University of Texas at Austin and an MFA from the University of Iowa in Iowa City. His works are included in collections of the Dallas Museum of Art, El Paso Museum of Art, the Meadows Museum of Art in Dallas, and the McNay Museum in San Antonio.

Photos on this page by Todora Photography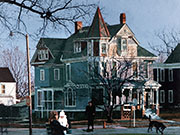 Roger Winter
"Women of Bloomington"
1995

Bill Haveron
"Realist, Idealist, Escapist"
1986
Oil and mixed media construction
97.5" x 87" x 12.25"