Deconstructing Gutenberg
Melissa Turner Drumm
June 16-July 21, 2012
Opening reception Saturday, June 16, 6:30-8:30 pm
Outdoor Gallery

Melissa Turner Drumm was born 1961 in Philadelphia, Pennsylvania. Drumm has recently begun to venture in a new direction, sculpture. In her newest works she is painting and torching nickel and copper panels to evoke her connection to the obsolescence of the printing press. Drumm focuses on the cultural and historic revolution brought about by the invention in the 15th century of the printing process. Through dimension and materials, she pays homage to a bygone process that brought literacy to all social backgrounds and was part of the foundations of modernity.

Drumm received her Master of Fine Arts degee in Painting Study from Bard College, New York in 1985 and her Bachelor of Fine Arts degree in Painting and Printmaking from Newcomb College, Lousiana in 1984. She has participated in exhibitions in New York, London, Paris, Los Angeles, New Orleans, and the McKinney Avenue Contemporary in Dallas.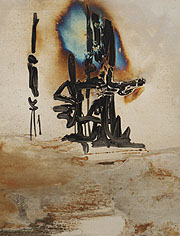 La Mancha, 2011, 12" x 24", oil, etched, torched german silver