History, Film and Dynamite
Daniela Comani
June 16-July 21, 2012
Opening reception Saturday, June 16, 6:30-8:30 pm
Main Gallery

Daniela Comani was born in Bologna, Italy; she lives and works in Berlin, Germany. Comani's multimedia installations engage in a dialog about history, language, identity, alienation and intimacy. Her work focuses on media images and text, which she manipulates through photography and video, and combines in her drawings and installations. Her work has been shown internationally and is included in the collections of Museum on the Seam, Jerusalem; Museo d'Arte Moderna, Bologna; and Kupferstichkabinett, Berlin.

Most recently Comani participated in the 54th Venice Biennale with the piece "IT WAS ME. DIARY 1900-1999," print on net vinyl, 400 x 600 cm. "IT WAS ME" presents 100 years of history in the first person and out of chronological order. Effectively, Comani has written a diary of the 20th century as though all the events actually happened to her. From one day to the next, from one report to the next, she is a passive witness, then an activist, then victim, then perpetrator. In this way she is seemingly the initiator of these twentieth-century historical events. "IT WAS ME" exists in three versions: as a large digital print on vinyl cloth, as an audio-installation, and as a book.

Selected exhibitions include 2010: Überblendungen, Shedhalle, Zürich; Courier, University Art Museum, University at Albany, State University of New York; C'était moi. Journal 1900-1999, Centre d'Art Passerelle, Brest (E); Press Art—Die Sammlung Annette und Peter Nobel, Museum der Moderne, Salzburg; 2009: Zeigen—Eine Audiotour durch Berlin, Temporäre Kunsthalle, Berlin; Kaléidoscope d'Italie, Centre national de l'audiovisuel, Dudelange, Luxemburg; 2008: Transmediale08—conspire!, Haus der Kulturen der Welt, Berlin; HeartQuake, Museo on the Seam, Jerusalem; Focus on Contemporary Italian Art, MAMbo—Museo d'Arte Moderna, Bologna; Bildpolitiken, Salzburger Kunstverein, Salzburg; 2007: History will repeat itself, Hartware MedienKunstVerein, Dortmund und KW-Institute for Contemporary Art, Berlin; Ich war's—In 32 Tagen um den Alexanderplatz. 1805-2007, NGBK—U2 Alexanderplatz, Berlin (E); 2006: Das Achte Feld, Museum Ludwig, Köln.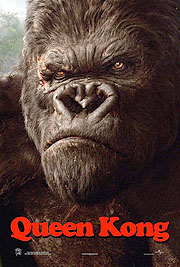 Queen Kong from the series "Daniela Comani's Top 100 Films," 2011-12, archival pigment print, 27.5" x 20"