Cosmologies
March 20-April 17, 2010
Artist reception and performance of the installation "Balance"
March 20, 2010, 7:00-9:00 pm
See the video tour with interviews
View exhibit gallery
Kirk Hopper Fine Art's newest exhibit, "Cosmologies," includes three highly diverse venues. The first is an 1,800-square-foot site-specific installation, "Balance," created by San Antonio-based Dwayne Bohuslav and Houston-based Joanne Brigham. The second features new works on canvas by internationally recognized artist, Sam Scott. And, lastly, Jeff Yerger, a veteran of University of Houston's MFA program and Dallas' Central Trak, is showing his oversized canvases that are fascinating hybrids of natural and computer-generated worlds.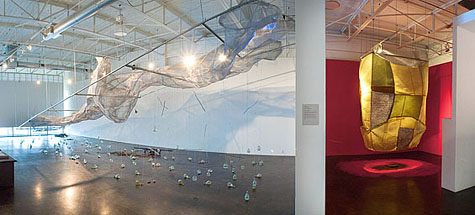 "Balance," installation, Dwayne Bohuslav and Joanne Brigham
The Bohuslav and Brigham site-specific installation is elaborately comprised of intricate mechanisms, steel, fabric, strings, beads and bottles and is suspended from the gallery ceiling. It includes an inclined plane that suggests a "floating world," reminiscent of motifs derived from both Tibetan Buddhist tradition and the oldest extant work of Japanese fiction, "The Bamboo Cutter." The entire piece poses questions of equilibrium, polarity, rhythm and gravitational pull, and ultimately asks where we might find a locus for serenity.
Sam Scott's latest paintings speak to the opposing energies which we experience as human beings in living and witnessing life, and attempt to reconcile this dialectic of context.
Jeff Yerger creates amalgamations that feature turning motors and pistons operating against a computer-generated sky. His world is informed by the formal properties of painting as well as the high-tech landscape which we all currently inhabit.
KHFA's opening reception will occur on the Vernal Equinox, March 20, 2010. The gallery is anticipating a groundbreaking show—including a performance by artist Joanne Brigham—and urges gallery attendees to mark their calendars for a very special night of change, evolution and awakening. From widely known artists to innovative, cutting-edge talent, KHFA is promising a unique gallery experience that sets the tone for the coming spring. In fact, you likely discover that the term, "Spring Forward" is completely appropriate!
Dwayne Bohuslav
Master of Architecture, Cornell University
Joanne Brigham
Master of Fine Arts, Southern Methodist University
Sam Scott
Master of Fine Arts, Maryland Institute College of Art. Studied under renowned artists, Philip Guston and Salvatore Scarpitta. Solo exhibitions include: Museum of Fine Arts, Santa Fe; The Harwood Museum, Taos; shows in New York, Washington, DC, Tucson, AZ, Hanoi, Beijing and France. Currently Santa Fe's "Artist of the Year"
Jeff Yerger
Master of Fine Arts, University of Houston